WWTP General Information
The Central Davis Sewer District is an award winning organization, dedicated to conservation and the protection of our resources and environment.
District Collection System Map (view 8MB .pdf)
District Collection System Specifications (view  2.3MB .pdf)
First Constructed:1961
Original Capacity: 2.0 MGD
Current Capacity – Peak Flow: 22.0 MGD
Maximum Monthly Capacity: 12.0 MGD
Average Annual Capacity: 10.0 MGD
Organic Treatment Capacity: 23,100 lbs
Current Maximum Monthly Flow: 7.53 MGD
Tons of Compost Produced Annually: 1,350
Tons of Biosolids Land Applied: 290
Acres of Hay farmed: 130
Collection System Miles: 160
Effects of Biosolids on Plant Growth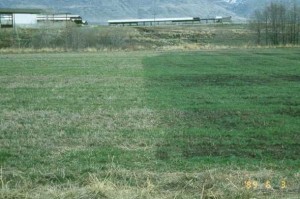 No application                                                                                                With Application
Beneficial Reuse
The District beneficially reuses all the wastewater residuals generated in the treatment process. Wastewater "biosolids" are used to fertilize alfalfa hay crops and for turf grass production. In addition, biosolids are mixed with ground wood waste and composted until a quality soil amendment is produced. This soil amendment is then sold to the general public.